New Beginnings:
Radiation Mark Removal Program
Welcome to the New Beginnings: Radiation Mark Removal Program, a national philanthropic campaign offering free radiation mark (tattoo) removal for cancer patients.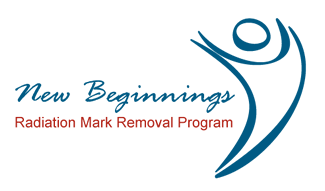 Over 120 board certified ASLMS members have volunteered to remove radiation marks (tattoos) absolutely free of charge for cancer survivors so that they can have the new beginning they deserve.
To ensure that patients are receiving the very best treatment, all participating physicians are board certified and ASLMS members in good standing.
Patients who wish to take advantage of this very special offering must simply contact the nearest participating physician to schedule a consultation. We've created an easy to use locator service to help you do just that. Patients must provide the physician with an official letter from their oncologist or radiologist approving the removal of any radiation marks (tattoos).
This free service is open to all cancer patients and is not limited to breast cancer or lymphoma survivors. The program will be offered year-round.
To find a participating physician nearest to you, read the disclaimer below and click the Physician Locator button. You can then browse the locator service to find a participating physician by checking the New Beginnings Provider box.